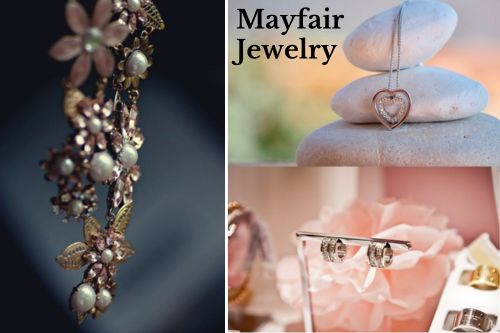 Sparkling, colorful, creative – jewelry makes a perfect gift, especially since it takes up very little space in your luggage. Wherever you are in London, there is a massive array of choice at every price point when you are seeking some pretty jewelry to buy.  All you need to know is where to go.
London's Mayfair is definitely the best place to start looking for a designer, high quality, expensive jewelry.  It is home to many of the top specialist stores such as Asprey of New Bond Street. Such jewelers have a long history of providing exquisite jewelry for discerning customers. Some companies have been established here for centuries.  Aspreys, for example, has been trading in Mayfair for over two hundred years and include royalty among its regular customers.
Perhaps you are looking for something more antique, something with a history? Then take a look at stores such as the Antique Jewellery Company in Davies Street or the showrooms of Sothebys and Christies, both of which hold regular auctions of vintage and antique jewelry. London hotels are a great option to book your stay and visit various jewelry stores in the city.
Swarovski and other types of costume jewelry can be found in stores throughout the West End and major shopping streets like Kensington High Street, Knightsbridge, Regent Street, Covent Garden and Seven Dials.  Apart from specialist stores, most department stores like Selfridges, Liberty, John Lewis will have a wide selection on offer.
Alternatively, you can follow in the footsteps of Londoners who head for the streets around Hatton Garden and Holborn.  For centuries this has been the center of the jewelry and diamond trade. Even today, there are over 90 jewelers shops and associated businesses in the area.  This is where Londoners go if you want something different, something handmade, something unique or are looking for a bespoke piece. Just a cursory look at the windows of the various shops will reveal the vast range of designs and styles on offer, and the staff is very happy to help you find exactly what you want.
Also in Holborn is the London Silver Vaults.  This is a shopping destination which is all too frequently overlooked, simply because many people do not realize it is there. They can actually walk past the door without being aware of the treasures that lie within. Mowbray Court Hotel Kensington is close proximity to Mayfair which is the perfect place to buy expensive jewelry.
The Silver Vaults are located close to Chancery Lane tube station. Big doors open on a long flight of stairs heading downwards into underground vaults. These vaults were originally designed for London merchants who wanted to keep their merchandise safe overnight from thieves.  Over the years, the Silver Vaults have been transformed into specialist outlets that attract discerning buyers. Nowadays, the combined shops situated within the Vaults contain one of the largest collections of jewelry and silverware, particularly antique silver, to be found anywhere in the world.