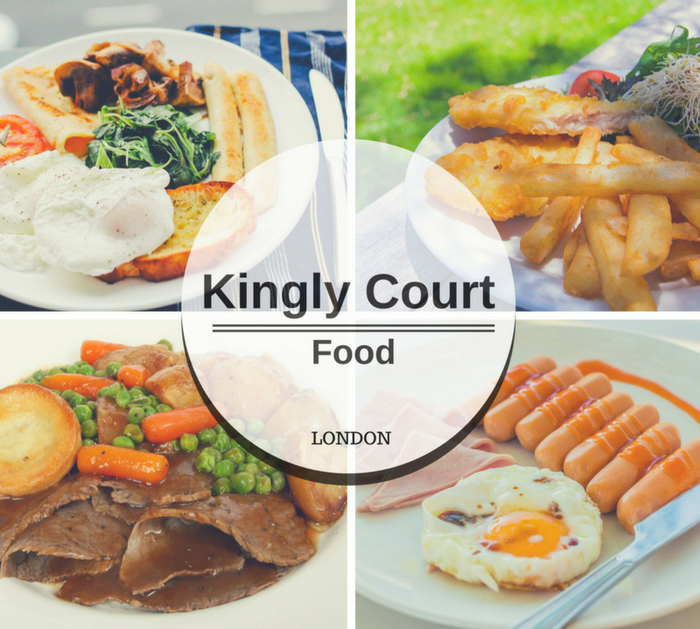 What's your preference?  Pizza, burgers, seafood – or are you interested in something more unusual like Korean street food or Peruvian food?  Then head for the Kingly Court to find the perfect meal.
The range of dining opportunities at Kingly Court is enormous, and it is easily accessible to anyone shopping in Oxford Street, Soho or visiting West End theatres making the perfect food destination.  Located just off Regent Street near Liberty's, and beside Carnaby Street, it is very easy to find. Being a resident at Mowbray Court Hotel London in one hand will make your stay comfortable and in close proximity to the above-mentioned restaurants will make taste more mouth watery.
This is where you can dine or relax with a drink, sitting outside in the pretty courtyard or seek shelter when the weather is cooler.
So just what is on offer?  The answer is something for everyone no matter whether you are vegan, vegetarian, flexitarian, carnivore or pescatarian.  You can explore new flavors and dining experiences, or stick to something more traditional.
Senor Ceviche offers a great range of Peruvian food with menus that include Chiffa Chicharrones, Pachamanca Ribs, Super Pollo, and Ceviche.  Alternatively, if Asian food is your preferred choice then head for Jinjuu Soho for the best in Korean street food such as wagyu mini burgers or bibimbap. Life Goddess majors on Greek food like meze, grilled octopus, and mousakka made in traditional clay pots and Pizza Pilgrims offers a great choice of pizza.
Equally worth trying for something unusual is Le Bab'smiddle eastern style cuisine where the menu includes pigs head, shawarma and cauliflower pastilla cooked over charcoal and wood.  Mongolian lamb and kimchi chicken can be found at dishes at the Oka Restaurant. Anyone seeking a really good brunch should take a look at The Good Egg, which offers a Jerusalem style brunch throughout the day. Or you can try jerk chicken and spicy Jamaican food at Rum Kitchen.
Pescatarians will love the Wright brothers menu as this includes langoustines, tempura monkfish, skate wing served with a spicy chili jam, crab in a bisque sauce as well as the ever-popular raw oysters.
Want to try some really classic British food? Then head for Shampers Wine Bar and Restaurant.  Innovative cake flavors can be enjoyed at Crumbs & Doilies Bakery and Cake Shop where cakes can include rainbow, peanut butter, and Raspberry ripple flavors. There are numerous cheap hotels near Earls Court where you can stay and taste some really delicious classic British food.
Prefer American style burgers? Stax Diner is a good choice – but don't expect a straight burger in a bun.  The menu includes Caramel Blue Cheeseburgers, Buttermilk chicken, and Halal gourmet burgers.
Complete the Kingly Court experience with a drink in the 1940's style Cahoots Cocktail Bar where you can try a Vera Lynn cocktail served in a Toby Jug!