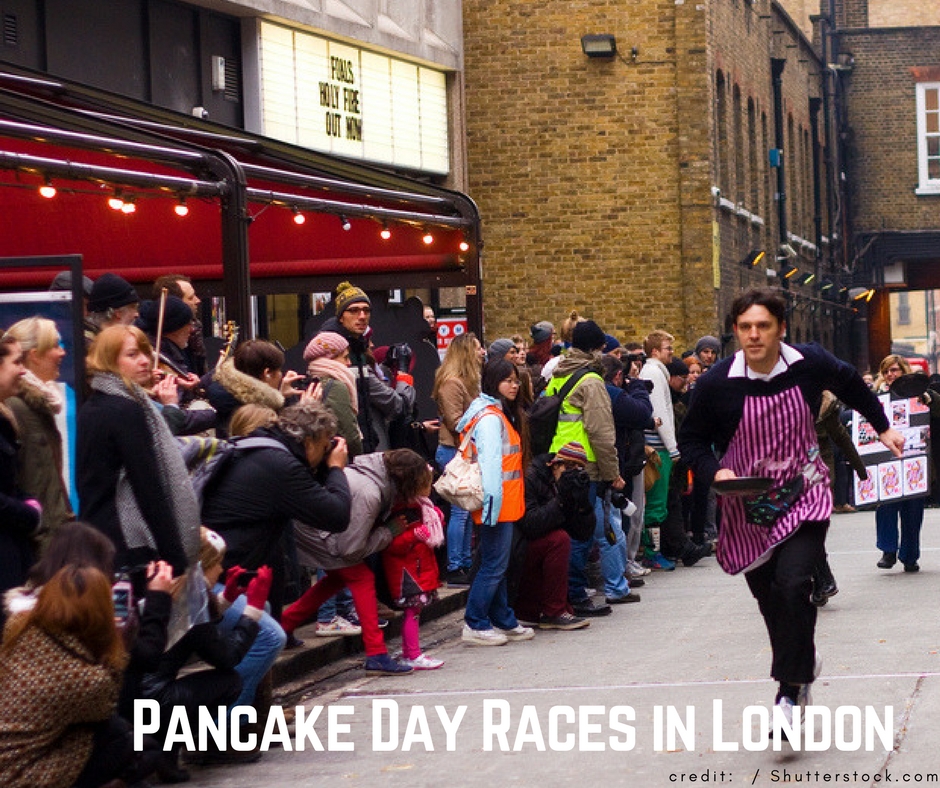 A touch of craziness hits London streets on Pancake Day, held this year on Tuesday 13 February.  This is the scene of lively, amusing pancake races where not all pancakes manage to make it to the finishing line.    
Teams, often wearing fancy dress, run along a set course tossing pancakes in frying pans.  These are not small pancakes.  Every pancake is large enough to match the bottom of a frying pan.
Several races are held around London
At Westminster Tower Gardens near the Houses of Parliament teams from the House of Lords, House of Commons and members of the Press who work there battle it out across several races. It is free to watch and is always very popular.
Head for the Guildhall Yard near St Paul's Cathedral in the City of London for another lively race. These are Livery Races when teams from three livery companies (Poulterers representing eggs, Fruiterers lemons and Cutlers the forks needed to eat pancakes) as well as the Mansion House, Guildhall and Old Bailey have a fun event.  It all begins with a lot of pomp and ceremony with many competitors wearing their full regalia as members of livery companies while others wear fancy dress. The winning team is given a commemorative frying pan. This place isn't too far away from Mowbray Court Hotel.
Further east again is the public races at the Old Truman Brewery in Spitalfields, East London.  Anyone can take part, as long as they pay the required donation to charity.  Many participants wear fancy dress, the more extreme the better.  They run their race along uneven cobbled streets which makes their task of tossing pancakes and successfully catching them even harder!
Pancake Day is an annual festival, held every year.  The date changes each time due to the fact that Easter is a moveable festival.  Pancake Day or Shrove Tuesday as it is often known is held exactly 47 days before Easter. It is always on a Tuesday in February or early March.  If you wish to be a part of this event, book your  accommodation in Kensington London.
This tradition began over a thousand years ago. It has its origins in the custom of medieval Christians to fast during the weeks before Easter. This period is known as Lent.  Shrove Tuesday is the day immediately before Lent begins and was when people went to church and were 'shrived' (forgiven) their sins.  Throughout Lent, various foods had to be avoided. This included eggs and fat so the custom began to have a big feast using up those items on Shrove Tuesday.  Pancakes were the obvious answer.
Nowadays, pancakes are popular all year round and you can enjoy them in countless restaurants and cafes across London such as My Old Dutch in Holborn or Crème de la Crepe in Covent Garden.  The range is extensive with both savory and sweet pancakes available.